Hannah - The Soldier Diaries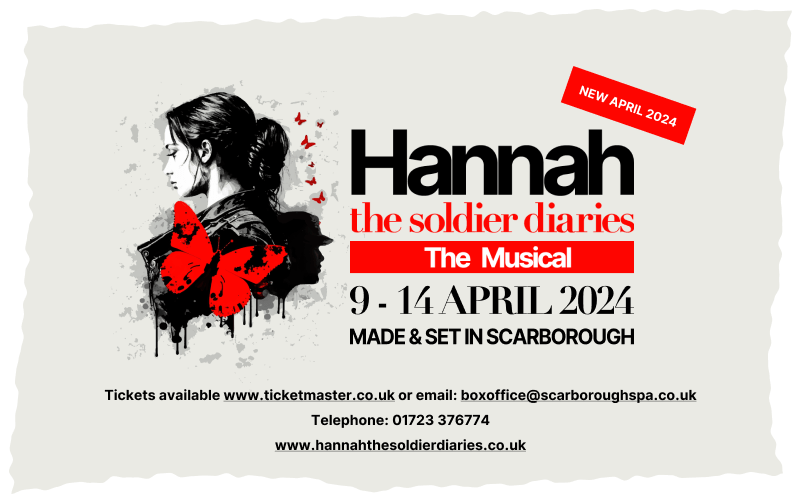 Based on the Audiobook of the same name, Hannah - The Soldier Diaries - The Musical tells the story of two twenty somethings Hannah and Jack who during the Summer of 2012 met and fell in love and spent four amazing weeks together before Jack had to return to the Army to fight in the Afghan War.
This fab new original Musical "Made and Set In Scarborough" features a big bunch of eclectic new songs and sets foot on the stage for the very first time at the Scarborough Spa Theatre between 9th and 14th April 2024.
The show features a foreword by Ross Kemp and a special guest appearance by the D-Day Darlings (Trio) as featured on Britain's Got Talent.
The above photographs feature Zoe Wright in the title role of 'Hannah - The Soldier Diaries', photos taken by Aiden Clarke.
Timings:
7:30pm Show
Doors: 7.00pm, Show Start: 7.30pm
2:00pm Show
Doors: 1:30pm Show Start: 2:00pm
Dates, times & tickets:
Tue 9 Apr 2024, 7pm
Tickets from £14.50
Wed 10 Apr 2024, 7pm
Tickets from £14.50
Thu 11 Apr 2024, 7pm
Tickets from £14.50
Fri 12 Apr 2024, 7pm
Tickets from £14.50
Sat 13 Apr 2024, 1.30pm
Tickets from £14.50,
Sat 13 Apr 2024, 7pm
Tickets from £14.50
Sun 14 Apr 2024, 1.30pm
Tickets from £14.50
Sun 14 Apr 2024, 7pm
Tickets from £14.50
For more information and to book tickets please visit https://www.scarboroughspa.co.uk/whats-on/hannah-the-soldier-diaries
Scarborough Spa, South Bay, Scarborough, YO11 2HD