Hannah - The Soldier Diaries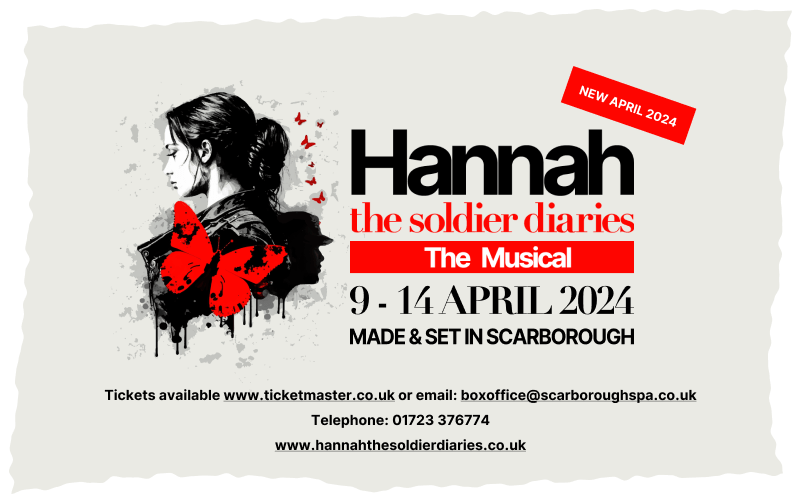 Introducing "Hannah - The Soldier Diaries," a heartwarming and captivating musical experience that's set to grace the stage with a burst of creativity and emotion! 🎵
Get ready to be transported to the enchanting world of Scarborough as this brand new musical, filled with a delightful medley of original songs, unfolds from April 9th to 14th, 2024. It's a story that's not just powerful but deeply rooted in love and compassion.
Imagine the iconic Scarborough Spa Theatre hosting a production that even boasts a special foreword narrated by the charismatic actor and presenter, Ross Kemp, along with the enchanting D-Day Darlings, the best-selling female group from the realms of Britain's Got Talent.
The above photographs feature Zoe Wright in the title role of 'Hannah - The Soldier Diaries', photos taken by Aiden Clarke.
This musical isn't just about performance; it's a fusion of national and local talent, creating a heartwarming blend that's bound to leave you mesmerized.
Steve Wallis, the creative genius behind this masterpiece, says, "We've drawn inspiration from the soul-stirring locales of Scarborough, harnessed the immense talent of our local community, and woven a tale of emotions that will touch your heart."
Based on the much-loved audiobook, "Hannah - The Soldier Diaries" brings to life the journey of Hannah, a student hairdresser, and Jack, a brave soldier serving in the British Army during the Afghan War.
What's heartwarming is that this production doesn't forget its roots, involving the local business community and casting local gems like Zoe Wright, a talent who's no stranger to the Scarborough Spa.
This musical isn't just about the past; it's a timeless narrative, exploring themes of love, longing, and resilience, appealing to generations and weaving together the threads of human experience - loss, love, endurance, and hope.
Join us on this incredible journey, where the past and future harmoniously coexist in a tapestry of emotions and stories.
For more information and to book tickets please visit https://www.scarboroughspa.co.uk/whats-on/hannah-the-soldier-diaries