HIGHFIELD success as they are recognised for excellence with the prestigious AA scheme.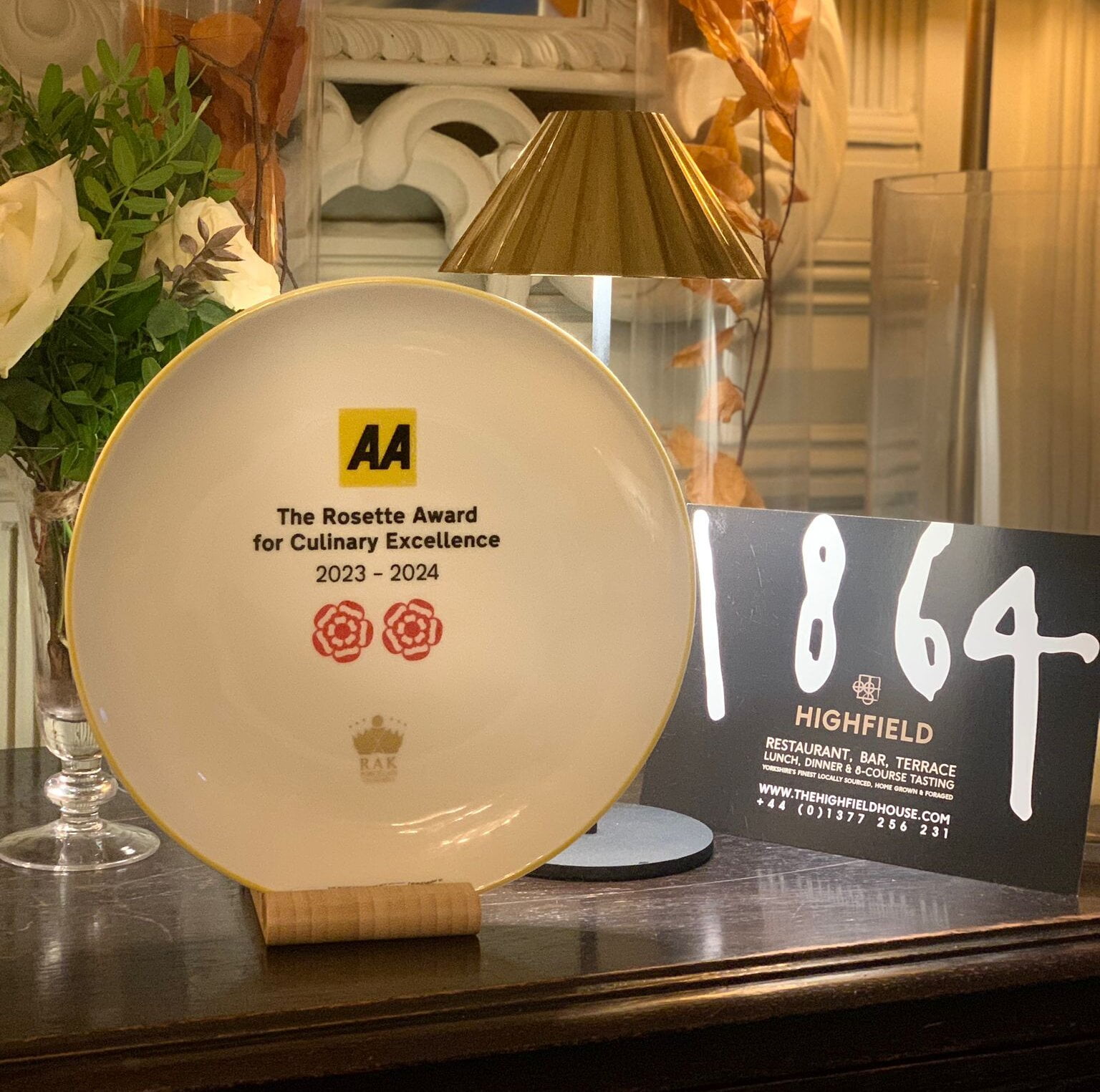 Awarded five-stars for accommodation along with two rosettes for high levels of culinary distinction.
Winners of this years 'Remarkable Restaurant' award from Visit Hull and East Yorkshire.
Tipped to be the next Yorkshire Michelin Starred restaurant, Highfield House is going from strength to strength with their 1864 fine dining restaurant and stylish, luxury boutique hotel rooms, they are drawing in guests in from across the region and in turn have been awarded their AA 5 stars in guest accommodation as well as two rosettes for consistent high standards and culinary excellence.
The AA star scheme is an established awarding body that inspects, assesses, and recommends places to stay, dine and visit across the UK.  Using a set criteria agreed between the AA and the main national tourist authorities, the AA recognises excellence in the service sector and have awarded Highfield Hotel their top rating of 5 stars.
HIGHFIELD House has been a labour of love for international designers and owners Andy and Lindsey Lampard who originally purchased Highfield back in August 2015 with the view to renovate and enjoy this peaceful haven as their family home.
Lindsey explains how their plans for Highfield made quite the u turn. "It became clear very quickly after moving in that this was an important piece of local history.  So many people called up asking if we were open for tea and cake, we also got so many requests for people to get married here, we knew that we needed to open the doors and share Highfield with the local community again"
After securing a European grant in 2019, Andy and Lindsey began work to transform the interior to create stunning accommodation, improve the facilities and create the offer that Driffield were missing.
"Work began in the summer of 2019, with the original intention to have the work complete by October 2020, but when the coronavirus pandemic hit in March 2020, work ground to a halt and the subsequent fluctuations in the market and the difficulty getting hold of materials meant the work took an awful lot longer than planned." Andy explains.
After a steady start, Highfield now boasts 8 luxury bedrooms all with ensuite, has a thriving wedding portfolio and is known as one of the best places to dine in Yorkshire offering amazing, show stopping dishes designed and created with fresh, local and seasonal produce, with a view of really showcasing their heritage.
Chef Rhys Baylis tell us about the passion that goes into the carefully curated menus. "We love to experiment with different ideas and are always on the lookout for something exciting an new to try.  Our love of food means we have a keen eye for the flavours that work.  We're lucky to have 8 acres of beautiful gardens, woodland and grounds which we forage, we also grow whatever we can and have some fantastic herbs and vegetables growing in our glass house."
Last week, to add to the accolades Highfield were awarded 'Remarkable Restaurant' of the year at the local tourism awards for Visit Hull and East Yorkshire.
Andy Lampard told us "Every dish presented takes hours of hard work in the design and preparation so for the judges to recognise this and to be acknowledge for all our hard work and dedication is just amazing. Hopefully winning this award will bring a lot more people to Driffield, we're massive champions of the area and really want to put it on the map!"
Highfield offers beautiful seasonal menus to enjoy in a stunning setting.  Open Wednesday to Saturday for fine dining in the 1864 restaurant and relaxed breakfast, brunch and lunch menu served in the parlour.  Sunday roasts are available on a Sunday and there is a fantastic bar for delicious, handpicked wines, cocktails and local ales.